Using the past to work
towards a future of innovation
and quality
ABOUT US
ABOUT US / OUR VALUES
OUR VALUES
Civil engineering and Architecture are considered among the more "mature" and "traditional" industry activities, an expression of art and culture, in every historical period.
For Studio Altieri this becomes an ongoing commitment.
Quality
Our priority is to provide to our Clients the best long-term value for their investments providing high-quality services, through the capability and competence of our staff. To this purpose we are able to quickly build teams locally based worldwide.
Innovation
Our approach aims at providing the best result combining best practices and lessons learned from previous experiences with innovation and continuous improvement.
Sustainability
Sustainability is based on achieving a balance between three primary key factors: society, economy and environment. Those factors, applied to our projects, allow to protect the resources that future generations will need.
OUR CERTIFICATIONS
UNI EN ISO 9001:2015 and UNI EN ISO 14001:2015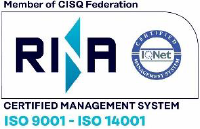 Member of PMI Pennsysilvania (US)

Member of OICE, a FIDIC Associate Member